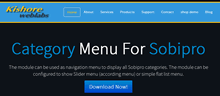 Category Menu for Sobipro display categories from a SobiPro section. It can be used as category navigation menu or simple category module. The module can be configured to show Sliding menu (According menu) or simple flat list menu.

Sobipro does not have any module to show all categories in joomla template. You have to manually create menu item for each category to show in joomla template. If you have many categories (suppose more than 50), than it is very cumbersome task to add all categories in menu item. So this module will take all your hardship and make life easy for you.
Live Demo Installation & Setup Download
Features List
Allow you to select Navigation Menu Style. You can select Sliding or Simple
Allow you to configure Max Level of Categories to show
Allow you to configure Ordering of Categories . You can order categories by Name, Position ,Hits and Number of Entry
You can strip long category name
Alow you to Hide empty category
Allow you to show/ hide entry count or number of hit and its separator
Allow you to load CSS and JS File
Compatible with SobiPro 1.1.x
Installation
Install this module from joomla extension manager.